You have got a big dream. You need a master plan and creative agency that makes your dream a reality.
At Devmont Digital, we transform every vision into a digital reality. We surpass imagination to make a good and robust plan that drives serious outcomes.
We assist brands with concentrating on who they are and what they stand for so they are prepared to cut through the clutter and find a golden opportunity for development.
We are incredibly proud of the recognition from Clutch. They list us as one of the best e-commerce developers in Pakistan. For context, Clutch is a B2B ratings and reviews platform based in Washington, DC. They evaluate technology service and solutions companies based on the quality of work, thought leadership, and client reviews. Clutch has become the go-to resource for buyers looking for the best company to hire and for businesses seeking qualified leads and new projects.
Clutch highlights the top B2B companies in Pakistan across different industries each year. The top Pakistani business service providers deliver high-quality customer service and have accumulated profound knowledge in their fields of expertise.
"The goal of every company regardless of size or industry is to make an impact. There's nothing more satisfying than leaving your mark in a profession that you're so passionate about. At Devmont Digital our goal is to help those companies etch their notch in history through the use of cutting-edge technology." – Mustafa Fazal Hussain, CEO & Co-Founder, Devmont Digital
These awards and recognitions wouldn't have been possible without our clients. Devmont Digital wouldn't be here without the opportunities and support. Furthermore, we are grateful for those who took the time to leave us a review on our profile on Clutch. Here's what they have to say about working with us.
"Mustafa was available during day & night and was willing to help and deliver all the stuff in a high performance way." – Owner, Football Around Me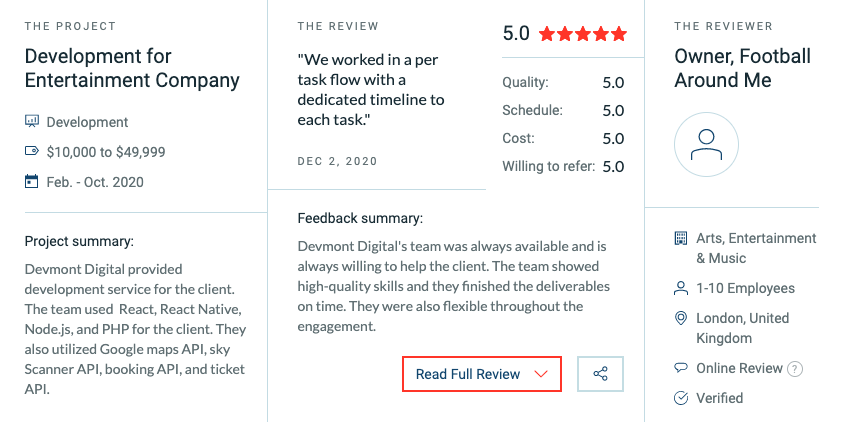 Get in touch with us.If you have any questions about branding, strategy, or e-commerce, we are here to help you.